Until now, the job of student recruitment fell squarely on the shoulders of the university's admissions department. The good news is that universities can take an interdepartmental team approach to increase student intake and university revenue—which typically generates between $17K - $55K per student, per year.
The opportunity lies in leveraging social media channels. After all, two-thirds of high school students say that social media conversations influence their decision on where to enroll in college, according to an article published on the Sprout Social Blog.
To engage prospective students through social media, universities must create conversations and tell interesting stories. An even better approach is to create content students will be thrilled to share. There is no better testimonial than one provided by a peer. And, there is no better testimonial than the one a graduate tells at the pinnacle of their life's achievement thus far.
Here's a perfect example of how a university's graduation event planning department can make a significant contribution, with almost no incremental effort.
How Does it Work?
StageClip repurposes existing graduation ceremony video, which is typically several hours long, into individualized clips your graduates can share with their networks within hours of the ceremony. It automatically adds in university footage and branding—to create a perfect social share video.
With millions of views across the globe, StageClip gives universities and colleges the opportunity to leverage existing content (the graduation video) and get their brand message out to a massive audience through the viral power of social media. Better yet, their graduates, who are their very best fans, drive the effort. If universities attempted to offer this on their own, the time, cost and effort of extracting of a single student's personalized walk across the stage would be prohibitive.
Why Does this Impact Student Intake?
There are 13 primary reasons high school students decide to enroll in a college or universities, according to a recent Eduventures Research Annual Survey of Admitted Students.
Of these, almost half are based on an emotional connection with the college. StageClip supports these reasons by providing:
a deep connection with the university brand
inspiration from current graduates and their stories
a personal sense of community and belonging
Most Important Reason Student Enrolled at Choice University/College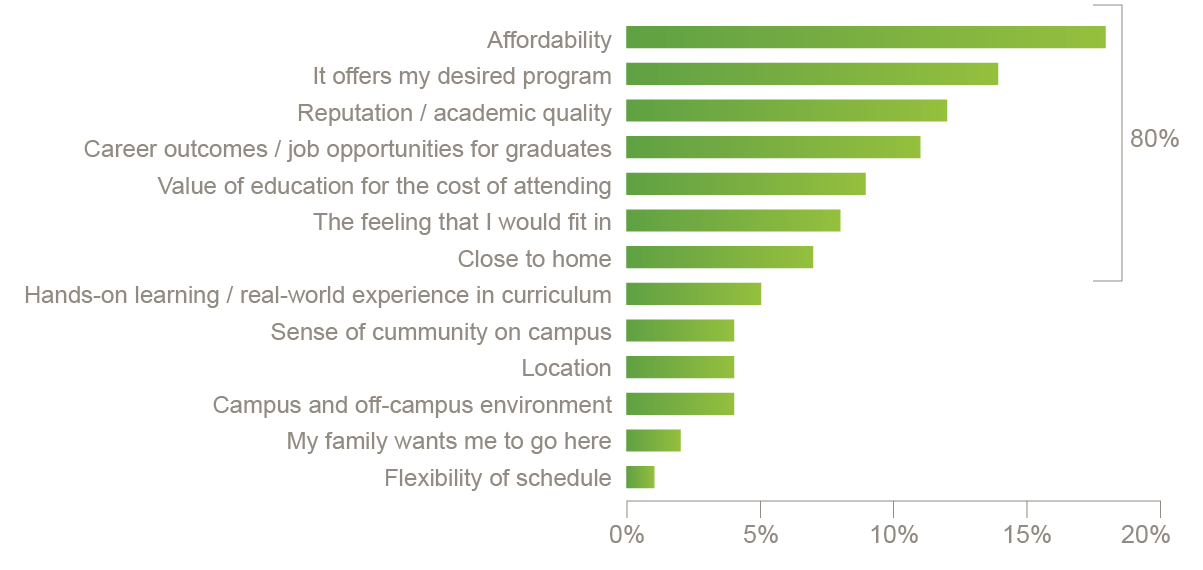 Watch a short 60-second video to see exactly how StageClip works and visit our gallery for examples from universities and colleges just like yours.
Click here for your complimentary Social Media Impact Assessment for your educational institution.