Video Marketing Trends – Why Video Matters
Today's marketing world is moving faster than ever before. There is a lot of content out there right now – really good content. Great content creators are competing for the consumers attention – and the trend is increasing towards more digestible, and more importantly, highly engaging, marketing content.
So, you may be asking yourself, "How do I get more eyes on my marketing content?"
In a word? Video. The video marketing trend is on a fast-moving, upward tick, and this trend is not going away. If anything, it will continue to accelerate. Not convinced? Here are some compelling statistics:
78% of people online watch videos every week, and 55% watch them online every day (HubSpot)
The average consumer retains 95% of a message when they view it on video – and retain just 10% when reading text. (Insivia)
Videos are shared on social media a whopping 1200% more than text and images combined (Social Media Today)
As with any good marketing strategy, it pays to follow and get on board with the latest trends. Here are a few to follow in the New Year.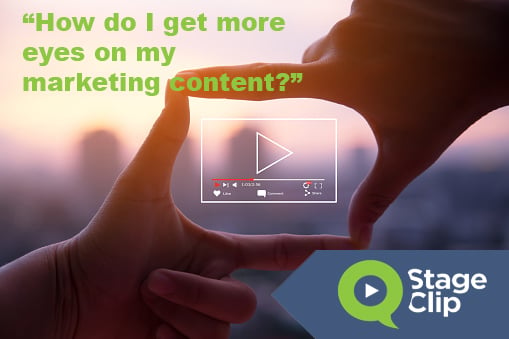 Optimize Video on Each of Your Social Platforms
Set yourself apart from your competition. Ensure that all of your video content is high-quality and the format fits in with the corresponding platform. For example, your Facebook videos should be square while your Instagram videos should be vertical. And don't simply post a YouTube video link on Facebook, use native video so the user can see it directly. This will increase engagement!
Target Segmented Audiences
It's hugely beneficial to know who your target market is – and speak directly to them with your videos! If you already know who your target audience is, great! But if not…one great way to do this is through Facebook custom audiences. In this way, you can create a 'warm' audience of those who have watched your video, then you can create a 'lookalike' audience to search for who are similar to your original viewers.
Instagram Stories Dominate!
No other social media platform is seeing a rise in video content more than Instagram stories. Why? Because they are more authentic than most other content out there. Harness this rising power NOW by adding your own compelling video shorts to create a more intimate and personalized relationship between you and your (future) customer. Content such as behind-the-scenes moments, new product sneak peaks and discount codes tend to get the most engagement.
Best Practices for Video Marketing
Here are some key points on "best practices" to keep in mind for your video marketing strategy:
Keep your audience on target by focusing on one topic per video. Get to the point as quickly as you can.
People have short attention spans – your videos should be short, as well. Around 30 seconds is best.
Always add a call-to-action at the end!
Include sub-titles in your videos. Many people will watch them on their phone with no sound, so make sure your message is still 'heard'.
Take advantage of these trends and you will not be left behind!